Hello there!  I'm Nathan, the owner of Columbus Wedding Videos.  First off, I'd like to thank you for considering my company to capture your big day.  Filming a wedding is a very important job which I, and my videographers take very seriously as we know there are no "do-overs" when it comes to a wedding.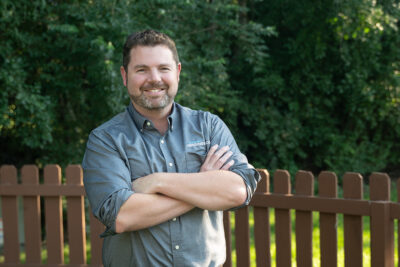 I am a proud alumnus of Ohio University (Go Bobcats!) where I graduated in 2004 with a degree in video production. After college I moved to Columbus and have lived here ever since.  Originally from Dayton, I have come to love living in the capital city.  Being a wedding videographer has given me the opportunity to discover some of the most spectacular places that Columbus has to offer.  It is also the place where I met my wonderful wife, Stephanie, and it is where my three children, Ellie, Neil and Leah, were born.  Columbus is my home.
To be honest, I never set out planning to be a wedding videographer.  I always wanted to make movies, but it never occurred to me that a wedding could provide the script for anything cinematic.  But after experiencing my own wedding, and being in the weddings of some close friends, I came to realize that every wedding has its own unique story.
There are so many things that happen behind the scenes before, after, and during a wedding.  It is more than just a ceremony, a couple of toasts and some dancing.  There are hundreds of little moments that make up the experience of a wedding. The father of the bride seeing his daughter for the first time in her wedding dress. The flower girls practicing how they will walk down the aisle. The juxtaposition of the groomsmen goofing around while the bridesmaids meticulously put on their make-up and jewelry.
These are the moments that make a wedding day, and these are the moments that make my films.
After ten years and over two hundred weddings, I have really come to enjoy meeting new couples as they are on the brink of starting their new lives together.  It's always interesting to hear how you met, what you now do for a living, the crazy experience you had at the last cake-tasting or your frustration with Aunt Mary because she refuses to send in her RSVP card!  I've been there.  Done that.  Steph and I got married in 2009 but the memories of wedding planning are still fresh in my brain.  I'm happy to give you some advice where I can, but mostly I just want to assure you that if you choose me, then hiring a wedding videographer will be one of the smoothest and easiest processes in your wedding.
I would love to sit down with you to hear your story.  Please feel free to email me or give me a call any time!
Sincerely,
Nathan Schivley